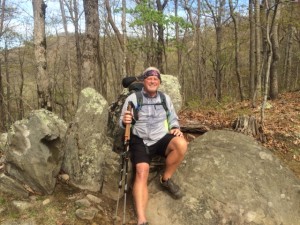 Week 4
This week was impacted again by storms and rain. Sunday night we tented in the rain and I was awakened during the night with a wet sleeping bag in a wet tent. We packed up early Monday morning, loaded our wet gear and hiked out to Robbinsville, NC, home of "Jim Tom", star on the TV hit series, Moonshiners. We found a hostel that treated us like family and allowed us to dry out and rest during the major thunderstorms. God provided us with this Godly couple who made us feel so welcome in their home. God opened the door for me to share my story of recovery with this family and my hiking partner. God blessed "My Story for His Glory" and we all praised our Heavenly Father for His Grace.
This week included three milestones. First, we entered our third of fourteen states, Tennessee. We will be hugging the NC/Tennessee border for the remainder of our time in the Appalachians. Second, we climbed Clingmans Dome, the highest elevation on the AT at 6655′. Third, we passed our 200 mile mark standing on Love Mountain and now have less than 2000 miles to the northern terminus, Mt. Katahdin in Maine. We have approximately two more weeks before crossing into Virginia, the state with the most miles on the AT.
The highlight of this week has been our hike through the Great Smoky Mountains. The land is pristine and entrance is monitored with each hiker tracked through documentation. I did see a mother bear and her cub on our first day. We are allowed eight days to hike 70 miles and cannot tent unless shelters are full. There is a welcomed commitment to protect the Smokies. One can sense and see the respect for the land by all hikers. Saturday we hiked up to 5540′ Rocky Top. The views were absolutely stunning and breathtaking. Haven't been able to get the song Rocky Top out of my mind since sitting on its summit!
While resting on the summit of Rocky Top I found myself very emotional thinking the opportunity I am living. I've been passionate about this hike for 33 years and now I'm living my dream. I have a purpose in hiking; to tell my story of recovery with the support of HopeQuest Ministries. I believe if you have a passion for something and a purpose in doing something, you can accomplish anything you desire. A lack of passion and purpose defeats many goals. And do you know when you start getting old?  When your regrets start replacing your goals.
My hike is still tough but so fulfilling. My resting and eating are much better. I'm listening to my body. And I am realizing more each day that mentally and physically I can do more than I thought possible. My body is getting lean and I'm in better shape physically than I've been in twenty years. It usually takes 4-6 weeks to get hiking legs and to build the cardio strength needed to complete this hike. So thankful to be physically in shape and able to climb these mountains each day. I do miss my family and a grandson that I've only seen once. But I would not trade this opportunity to hike the AT and to hike with the people I'm meeting on the trail with anything. This is where I am supposed to be at this time in my life. Thanks for all your support.
"Attitude is a little thing that makes a big difference." Winston Churchill