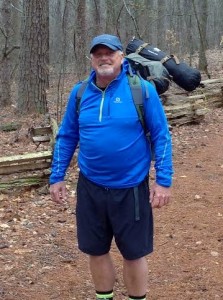 Meet Phillip Perry.  He decided 30 years ago that he was going to walk the Appalachian Trail.  His own personal journey led him to HopeQuest in 2010, and since then, he has been living in recovery and passionately pursuing life.  His dream of trekking across the Appalachian Trail is now becoming a reality.  Because of his positive experience with HopeQuest, he is using this experience to raise money for us.
In his own words, Phillip describes his life today.
"This year I will celebrate five years free, clean, and sober with a desire to give grace as I have received grace. It is HopeQuest that provided the tools I use each day to remain clean and committed.
Today the air is fresher, the grass is greener, and the sky is bluer, because l'm living life as never before. I no longer live in bondage to bitterness, anger, resentment and unforgiveness, needing pills to numb my feelings. I live in freedom from guilt, shame and regret. During my time at HopeQuest, God gave me Psalm 18:16-19 as my life verses: "He reached down from on high and took hold of me; He drew me out of deep waters. He rescued me from my powerful enemy, from my foes, who were too strong for me. They confronted me in the day of my disaster, but the Lord was my support. He brought me out into a spacious place; He rescued me because he delighted in me."
On this hike, I want to take every step in gratefulness and appreciation for the steps HopeQuest took to help me gain freedom in 2010."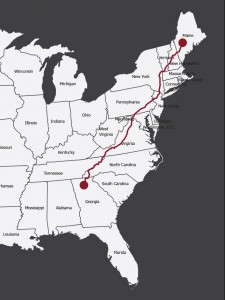 Phillip's hike will take him from Georgia to Maine, approximately 2,180 miles, and 6 months.  Phillip is leaving April 15th and returning the beginning of October.  How can you support us on Phillip's "Hike for Hope"?  We are asking for either a donation per mile amount, or to sponsor a day of his journey. The money you contribute will go straight to our ministry.  This is a wonderful opportunity to support us, and one of our own clients who has overcome so much.  Looking forward to sharing this journey with you!
To donate, click here, or you can mail us a check (P.O. Box 2699, Woodstock, GA, 30188) and specify Phillip's Hike for Hope.
Please follow us on Twitter, Facebook, and subscribe to our weekly emails, to keep up with Phillip on his adventure!