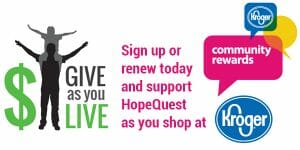 Support HopeQuest while you shop at Kroger…
WHAT
The Kroger Community Rewards (KCR) program is evaluated annually, and the time for Kroger Plus Card holders to re-enroll is now. The Atlanta Division launched the program in September 1, 2013, and Kroger Card holders must re-enroll to begin accumulating dollars for their schools, charities, and organizations annually.  This year, Kroger is proud to donate $500,000 to local schools and nonprofits through this Kroger Plus Card based fundraiser.
WHO
Everyone who shops at Kroger can sign up for a free Kroger Card and support HopeQuest today! Currently enrolled Kroger Card members and supporters DO have to re-enroll every August.  You will not have to set up a new Kroger.com account, only link your card again to The HopeQuest Ministry Groups, Inc NPO #39575.
WHEN
Now through August 26, 2017, current rewards customers may re-enroll.  Your current selection will not be affected and continue to earn rewards through the end of this program year (August 26, 2017).  Your re-enrollment of HopeQuest will start earning for the new program year starting August 27, 2017.
WHERE
WHY
At HopeQuest, we are FOR the person held captive in addiction.
We believe that by saving the life of one individual, we impact past and future generations by helping individuals experience freedom, hope, and life. Our clients return to their communities and families equipped, healthy, and hopeful.
If you are already a financial partner with us, THANK YOU on behalf of our current clients and families. If you aren't, would you prayerfully consider becoming a HopeQuest financial partner today through the Kroger Community Rewards Program? It's an easy way to be a part of investing in changing addiction's stories through simply registering your Kroger shopping card with HopeQuest and "Give as You Live"…
HOW
We would like to encourage you to register your Kroger Shopping Card online at krogercommunityrewards.com
Be sure to have your Kroger Plus card handy and register your card with The HopeQuest Ministry Groups, Inc NPO #39575 after you sign up.
If you do not yet have a Kroger Plus card, they are available at the customer service desk at any Kroger.
Click on Sign In/Register
If you are a new online customer, you must click on SIGN UP TODAY in the 'New Customer?' box.
Sign up for a Kroger Rewards Account by entering zip code, clicking on favorite store, entering your email address and creating a password, agreeing to the terms and conditions
You will then get a message to check your email inbox and click on the link within the body of the email.
Click on My Account and use your email address and password to proceed to the next step.
Click on Edit Kroger Community Rewards information and input your Kroger Plus card number.
Update or confirm your information.
Enter The HopeQuest Ministry Groups, Inc NPO #39575, select our organization from the list and click on confirm.
To verify you are enrolled correctly, you will see HopeQuest's name on the right side of your information page.
REMEMBER, your purchases will not count for HopeQuest until after you register your card(s).
Do you use your phone number at the register?  Call 800-576-4377, select option 4 to get your Kroger Plus card number.
You must swipe your registered Kroger Plus card or use the phone number that is related to your registered Kroger Plus card when shopping for each of your purchases to count towards HopeQuest.