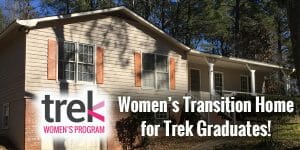 Part of HopeQuest's Trek Women's Program
We are excited to announce the opening of the Women's Transition house!
For many years, women exiting the Trek residential program relied on sober living homes or other half way house situations if they were not ready to return to their
home environment. Thankfully, through the donation of a house located nearby the HopeQuest main campus, we were able to open our first women's tran
sition home on April 1, 2017.
The transition home is open to those ladies that have successfully achieved the women's Trek residential program and desire to have some structure in place as they take a next step back into real world living. Women may stay in the transition program up to 6 months. Currently, the transition home has a capacity of 4 women plus the house director who resides in the home full time.
Celebrate with us on this new and exciting service we are offering clients!