Service Project by 6-year-old Generates Cash Gift to HopeQuest
– by Dawn Hood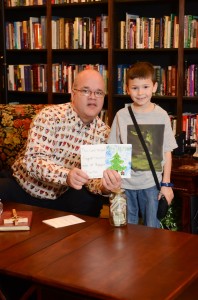 Seth Evaschuk, age 6 (and discussing what the Tooth Fairy might bring in exchange for his missing front tooth) presented the HopeQuest Ministry Group with a Mason jar full of money: $200 in $1, $5, $10 and $20 bills. Seth had designed and colored Christmas cards for sale to family, friends, and his Dad's co-workers at Lockheed. He told his parents, Nicholas and Leah Evaschuk, that he wanted all the proceeds to go HopeQuest, a comprehensive, residential treatment program offering services and resources for those who struggle with addiction and life-dominating behaviors.
Very creative and a little bit shy, Seth was quick to point out the details of his colorful artwork to Roy Blankenship, founder and CEO of HopeQuest Ministry Group. "I put a smile on that one," he said as he pointed out the Snowman design. "My mom helped me a little with this one," he quietly admitted directing Roy's attention to the Christmas Tree card. "And I like the colors on this one," he added, moving the J-O-Y card to the top of the stack. Their family friend, Gigi Dooley, is on staff at HopeQuest and Seth's mom shared that he wanted to help Miss Gigi with her work.
The oldest of four children, Seth is a home school student whose family attends Watermarke Church located in Canton, GA. After designing, drawing and coloring the three originals, his parents had copies printed on card stock and then the sales frenzy began. At $2 per card, Seth sold over 100 cards between Dec. 1st and Dec. 23rd.  Earlier last year, Seth made Thank You cards for the Timothy Ministry which is part of his home school program. When talk turned to the holidays, Seth told his mom that he wanted to make Christmas cards for HopeQuest.
"It deeply touches my heart", said Roy. "I pray that God will continue to make Seth strong in spirit and grow him to be a man whose gifts will be a blessing to those in his community. In the midst of the difficulty of our work and the heartbreak that we see daily, Seth's gift is truly inspiring. Our entire staff has been encouraged and energized by his simple act to help those who are hurting."