You may not be aware, but we value what God can do in the life of those that are held captive by addiction.  We value it so much, in fact, that HopeQuest has a full-time Campus Pastor/Director of Spiritual Formation for our TREK Residential Program.
Today, this was a communication piece our Campus Pastor sent out as he challenged our residential program participants in spiritual life:
Good morning gang,
 Wanted to give you a heads up on what we did this morning in spiritual life. We showed them this video: http://youtu.be/5oPDcFJk–E
 And then I asked the guys "so why would I show you this video and what does it have to do with your recovery?" 
 I've watched time and time again the power of gratitude as clients recover. I challenged them to write five things they're grateful for today, and then challenged to do five everyday and hang them up. Was shocked at how many guys were in tears… Please keep praying for these men. I love what I sense God doing around here. 
Here's what we're doing with those: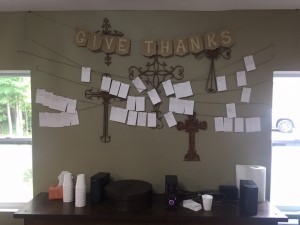 Our work is greater than just stopping destructive addictive behaviors.  We help people do that, but our vision goes far beyond stopping behaviors.  It moves into restoring freedom, hope, and life.