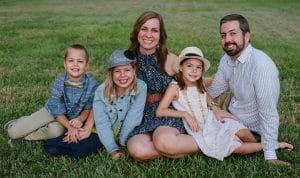 A key part of my story is that, unfortunately, but I'm learning not surprisingly, the response from some of our friends and people in church was hurtful and compounded my trauma. It's a hard thing to just sit with someone in their pain. And that can become apparent quickly in a situation like ours. People are quick to offer their solution. Bobby was a worship leader in our church and had grown up there. Leaders in our church had a hard time believing his addiction. They minimized Bobby's addiction and cast blame on me for not being forgiving enough or for setting boundaries. Some discouraged us from sharing our story. Some questioned my ability to lead in ministry. And then people stop making eye contact, they stop asking you to be involved in their group or asking you to volunteer and they walk the other way when they see you. I felt abandoned and like an outcast at my church. So much irony in that. 
After struggling in recovery for about 2 years I told Bobby that the HopeQuest Trek program was the last option. And I truly had no hope for our marriage. I felt like we'd taken all the steps we were supposed to take and it wasn't working; the recovery just wasn't sticking. 
When I spoke with Bobby during his time at HopeQuest, I could see him digging deep, having these "aha" moments, and beginning to build confidence in himself. He was understanding where he struggled in assertiveness and connecting with his own emotions. He was understanding what it meant to be in a community where people share honestly and vulnerably and dealt with conflict. He tells me he was learning what it meant to really be a man. He was understanding the deep love God has for him, without a need to prove himself or do better. He was certainly changing. Bobby calls the next part, God bragging because He wasn't done there. 
Click here to read Kyla's first blog post: https://hopequestgroup.org/kylas-story-part-one/
Click here to read Kyla's second blog post: https://hopequestgroup.org/kylas-story-part-two/
Click here to read Kyla's third blog post: https://hopequestgroup.org/kylas-story-part-three/
Look forward to more of Kyla's story to come over this holiday season…