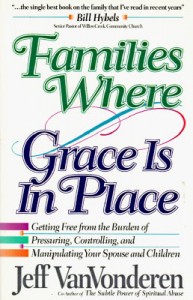 For this month's resource recommendation, I read Families Where Grace Is In Place by Jeff VanVonderen.
What is it about:  Using his professional and personal experience, VanVonderen shows readers how to nurture God-honoring relationships free of manipulation, legalism, and shame. This book sends the message that God's grace can transform these relationships. By discovering God's plan for your life and following the example of His grace, you'll learn the importance of controlling yourself so your family can be all that it can be.
Why did I read it: At HopeQuest, many of our clients come with family issues, involving many of the topics VanVonderen writes about: shame, guilt, manipulation, and legalism.  Family dynamics and influences are crucial in a child's development and as an adult.  This book gave practical tips and real examples of how to change some of the family dynamics you may be experiencing or have experienced, for the better.
Favorite idea:  There is a letdown that comes from focusing too much on controlling other's behaviors and attitudes.  When people spend their lives trying to "fix" their spouses and kids, the natural result is exhaustion, depression, and an overall sense of hopelessness.  The key is learning the difference between God's job and ours.  God's job is to fix, and our job is to rely on Him as we nurture and encourage our families.