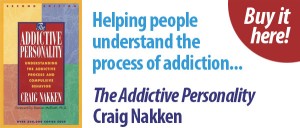 For this month's resource recommendation, I read The Addictive Personality by Craig Nakken.
What is it about:  This book helps people understand the process of addiction.  Author Craig Nakken goes beyond the more common dependencies (alcohol, drugs, sex) and uncovers the common denominator of all addiction and describes how the process is progressive.
Nakken sheds new light on:
Genetic factors tied to addiction
Cultural influences on addictive behaviors
The progressive nature of the disease
Steps to a successful recovery
The author examines how addictions start, how society pushes people toward addiction, and what happens inside those who become addicted.
Why did I read it: At HopeQuest, we require clients to read this book as a part of their journey to healing and restoration.  It helps those struggling with addiction understand more of the root of the problem, instead of just the side effects. This book will help anyone seeking a better understanding of the addictive process and its impact on our lives.
Favorite idea:  Recovery is not just about breaking off your relationship with an object or event, though vital to the process. Recovery is primarily about coming to know your addictive personality and taking the necessary steps to rid yourself of addictive attitudes, beliefs, values and behaviors. Nakken's example – "People in a recovery program for alcohol addiction need to clearly understand that they are prone to form a possible addictive relationship with another object or event – such as food for example. For these people, sobriety acquires a new dimension; instead of only monitoring their relationship with alcohol, they also need to learn how to monitor the addictive part of themselves."