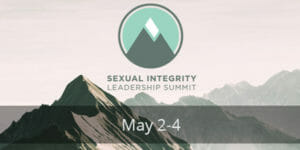 What if local church leaders could gather together to share insights, tools, and resources that would allow them to address sexual integrity in their own unique environments? What impact could that have on the Church as a whole?
Introducing the Sexual Integrity Leadership Summit.
This collaborative, three-day event will bring together experts in the field with those who are ministering to the hurting body of Christ. Gain Biblical wisdom, practical tools, and clear next steps to lead others toward sexual wholeness. Join us to move from feeling helpless to feeling hopeful.
Sexual Integrity Leadership Summit
May 2-4, 2019
Marietta, GA


Only $99 Through February 28th!
Here's what a few attendees from our inaugural 2018 event had to say:
"It seemed like there were a lot of people and ministries that didn't know each other existed, but it was amazing to see the contacts being made, and people realizing they don't have to do it all alone."
"Excellent speakers! Excitement over the growing unity and response to sexual issues in the Church."
"The table group discussions were so diverse and eye-opening. Very helpful to get different perspectives and ideas for my own ministry."
"The speakers were awesome, not only in their own proficiency, but in their ability to relate and their accessibility."
"It helped having a pastor's perspective. I thought it brought a good dose of realism to the talks. I appreciated his emphasis on taking time and working within a church's particular culture."
NOT A PASTOR, MINISTRY LEADER, OR COUNSELOR?
We want to help equip the people leading your faith community. Please consider forwarding this email to someone who should know about the event, or click here for other ways to share.