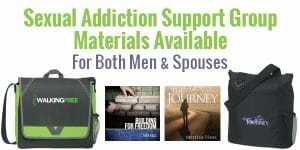 Walking Free/Journey Support Group Materials
We have affordable small group resources that give men and spouses a path towards freedom from sexual addiction.
Building for Freedom
is for men pursuing honest and authentic relationships with Jesus Christ and other believers through personal study and group support. Designed to engage men both spiritually and practically, this 15-week interactive study addresses the challenges of sexual integrity in profound and life-changing ways.
Journey
is written for spouses of sexually broken men.
Journey 
can be done alone, with a therapist, or as a part of a
Journey
support group.
Journey
groups are a 10-week counseling and support group for women facing betrayal and loss. Using the
Journey
workbook, women will work through topics such as "
Angry – but not Stuck"; "Admitting Fears"; "Setting Limits";
and
'"Trusting Wisely".
Leadership Kits are also available to those that desire to start
Walking Free
or
Journey
Groups through their church.  For more information on materials or starting a group in your church, please reach out to Gant Garner. Gant will be able to offer direction and support when it comes to starting groups or purchasing materials. Call our main office at (678) 391-5950, or email Gant directly at
gant.garner@hopequestgroup.org