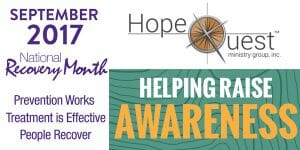 Every September, SAMHSA sponsors Recovery Month to increase awareness and understanding of mental and substance use disorders and celebrate the people who recover. This year's theme is Join the Voices for Recovery: Strengthen Families and Communities. The 2017 theme highlights the value of family and community support throughout recovery and invites individuals in recovery and their family members to share their personal stories and successes in order to encourage others.
Our mission is to help individuals and families impacted by addiction to experience freedom, hope, and life. What makes HopeQuest different? Through a clinically-effective and Christ-centered approach, many people like you are finding the hope and help they need – many for the very first time. With a peaceful, home-like setting, we offer affordable long-term treatment with a relationally-driven approach focusing on core issues. Whether you or someone you love is struggling with alcoholism, drug addiction, sex addiction or some other life-dominating behavior, we offer professional help in the context of safe spiritual community.
To learn more about HopeQuest and how we serve clients and their families, check out our website at www.hopequestgroup.org or call our main office at 678-391-5950 and ask to speak to our Director of Admissions, Emily Woodfin.
Thank you for being a part of Recovery Month!