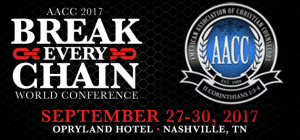 Friends and Partners at AACC…  
Meet Undone Redone and Covenant Eyes…
Every two years, HopeQuest has the privilege of playing a part at the American Association of Christian Counselors World Conference in Nashville, TN. With over 7500 counselors and pastors in attendance, it is an incredible opportunity to share what we do as well as build relationships with our current partners as well as new ones.
This year we were reminded again that we live in a culture that aggressively pursues the hearts of people to distort what God created for good. Whether it is through sex trafficking, pornography, serial affairs, or widespread promiscuity to name a few, the attack on the body, hearts, and minds is relentless.
While there, our executive director, Troy Haas and his wife Melissa were able to have Facebook live posts with a couple of our partners who are fighting the same fight.
Undoneredone.com is the story of a couple that divorced over sexual addiction and was remarried six years later! Troy and Melissa caught up with them at AACC for a quick facebook live interview.
One of the premier and cutting-edge resources available to individuals and families today is
Covenant Eyes
. Troy and Melissa caught up with Sam Black, regional VP for Covenant Eyes, for another facebook live interview.
We are proud to be partners with 
American Association of Christian
Counselors, and to be teaming up with them and others in our fight against substance and sexual addictions.