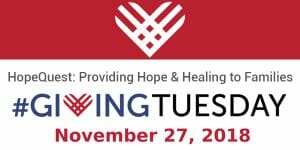 Did you participate in #GivingTuesday last year?
Join the global movement!
#GivingTuesday is a global giving movement that has been built by individuals, families, organizations, businesses and communities in all 50 states and in countries around the world.
This year, #GivingTuesday falls on November 27. Following Thanksgiving and the widely recognized shopping events Black Friday and Cyber Monday, #GivingTuesday will kick off the giving season by inspiring people to collaborate and give back.
HopeQuest believes that everyone's addiction story matters, and everyone's "giving story" matters too… and that's why we participate in #GivingTuesday.
You can give to HopeQuest on #GivingTuesday at: