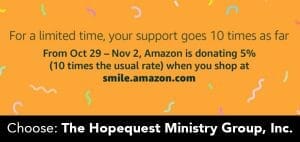 Do you shop Amazon? Be sure to use Amazon Smile to help support HopeQuest…
Choose: "The Hopequest Ministry Group Inc"
AmazonSmile has donated over $100 million to charities thanks to customers shopping at smile.amazon.com. To celebrate, AmazonSmile is donating 5%
(ten times the usual amount)
to The Hopequest Ministry Group Inc when you shop at 
smile.amazon.com/ch/47-0941001
 through Nov 2.
This week, Amazon is celebrating their amazing accomplishment helping various charities through their Amazon Smile Program. It's easy to help support HopeQuest through this program. Simply go to
smile.amazon.com
 before shopping, and choose to support
"The Hopequest Ministry Group, Inc" 
Be sure to help support HopeQuest this week during this special promotion! Thank you!
#AmazonSmile #StartWithaSmile