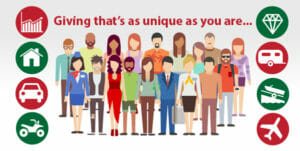 At this time of year, non-profits focus a lot of attention to the benevolence and generosity of its supporters and donor partners.  When it comes to being generous, we have some of the most dedicated supporters that make it possible for us to continue the mission that God has called us to.  Without you, we simply would not be in a position to help individuals and families overcome addiction.
When it comes to giving through HopeQuest, here are some interesting facts you might like to know….
25% of the budget at HopeQuest comes from the financial support of partners just like you.
50% of our financial support comes in the last 3 months of the year.
28% of our support comes during the month of December alone.
Over 1,000 clients and families have come through the Trek program that your financial gifts make possible.
HopeQuest recently opened an Intensive Out Patient program to increase opportunity for those impacted by addiction but can't come into a residential program.  Additional expansion of services is coming in 2019.
Occasionally we have partners that like to give in creative ways.  One of those ways is through the giving of STOCK or Mutual Funds.
We have partnered with the National Christian Foundation (NCF) when it comes to non-cash gifts (such as stock).  Several of our partners last year maximized the impact of their gift with the help of NCF.
If you are curious about giving stock or another asset other than cash, click this link to read a short article about giving stock from NCF.
https://www.ncfgiving.com/stories/tis-the-season-for-stock-giving/
For more information, feel free to reach out to our Director of Development Steve Cummings at steve.cummings@hopequestgroup.org or our Ministry Development Officer Gant Garner at gant.garner@hopequestgroup.org.
Thank you again for always being behind us at HopeQuest.  We are so grateful for your generosity.