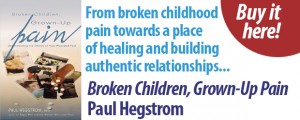 For this month's resource recommendation, I read Broken Children, Grown-Up Pain by Paul Hegstrom.
What is it about:  Paul Hegstorm authors this book with honesty.  He openly shares in the first chapter about some of the brokenness in his childhood and how that affected many areas of his life, continuing into adulthood.  Using personal examples, psychological studies, and biblical principles, he shares practical and proven methods for facing and dealing with the pain of the past.  There is healing, when we are finally free to pursue authentic relationships and build healthy emotional intimacy with others. The book goes chapter by chapter, addressing stages of life and how to make healthy decisions, despite what may have happened in the past.
Why did I read it: At HopeQuest, we ask the clients to read this book as a part of their journey to healing and restoration.  Many times the root of an addiction comes from some kind of brokenness in childhood.  Despair, emotional isolation, abuse, neglect, and self-loathing are just some of the damaging fragments that remain embedded within our souls when we are broken as children. The memory of the past may seem distant and clouded, but scars remain that continue to inflict pain upon our adult lives-and often end up spilling into the lives of others.  This book is often the first step in healing the past for our clients.
Favorite idea:  "When we begin to uncover the truth about ourselves, we can start asking real questions about what we need in our lives.  We can learn to talk about what we want and need.  Everyone communicates differently, and each of us will discover the right method of expressing our needs to those we love.  We must take courageous steps to share what's in our hearts and minds.  This is the beginning of the journey to wholeness."