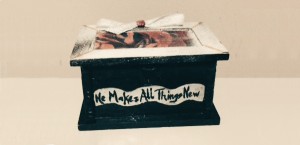 HopeQuest offers Journey, a support group for women whose spouses struggle with sexual brokenness. Each year the Journey support group offers a spiritual retreat for its members. This story that I am about to share with you happened at one of these retreats.
I have friends I call "The Fellowship of the Broken." These ladies have all experienced pain, heartache, and grief in their lives. This adversity has done it's work and yielded women who are authentic and open and thirsty for God.
I have watched the Father save those who are crushed in spirit. I have seen women who had isolated themselves take the risk of opening up to others. I have seen women trade their ashes for beauty. I have seen miracles. It is amazing and beautiful every single time.
This is the beginning of one of those stories.
Holly* spills over with energy, a full- throttle kind of girl. If she is ever slows down to walk, rather than run, she walks fast. She has fire and passion. I say she was the inspiration behind the Nike slogan, "Just Do It".
At this time in her life, Holly is enduring intense emotions over the betrayal she has experienced in her marriage. She is up, down, hopeful, discouraged, angry, frustrated, tender and forgiving. Life is a roller coaster right now.
During our Journey retreat, after a powerful lesson on how our souls relate to God, our speaker instructed us to decorate our own small, plain wooden box. We were given a box and art supplies to help us create a box that would represent who we are, body and soul. Holly, whose strong suit is not arts and crafts, was trying her best to make her box as she had been encouraged to do.
Unfortunately, there was an accident when Holly mistook the white paint for the mod-podge. For all you non-crafters out there, this means that instead of gluing on her designs and making them look shiny like a coat of mod-podge would do, she completely covered her work with white paint.
Her box was ruined.
Discouraged, Holly tossed the ruined box aside as garbage and got another plain box. There wasn't time to start over, so Holly simply slapped some stickers onto the new box and called it done.
Someone, who had watched Holly toss her first box in the trash, rescued it. This woman redesigned, repainted, and remade the box into an amazing work of art. And as a finishing touch she painted this verse across the front: He Makes All Things New.
I wasn't aware that any of this had happened. So when I saw the beautifully decorated box she was holding during worship, I said, "I think you are lying about not being very good at this crafty stuff! Your box is beautiful."
That's when I saw that she was crying. And with tears rolling down her cheeks, Holly told me that someone had redeemed her solid white mess up from the trash heap, and produced this lovely new creation she now held.
Immediately my own tears started flowing, as well. I was so overwhelmed by God's tender mercies and care for my friend. He had seen her struggle. He had seen her pain. He had seen her need. And He had called on one of the members of the body to give a gift of hope.
That anonymous woman was obedient to the call. She used her gift of compassion to bless Holly. Little did she know that her simple act of repairing the rejected box would become known to every lady at the retreat and that small act would resonate deeply within our souls.
As Holly shared the story with the group, we all could sense that God was speaking to our hearts as women. He was proclaiming His love and tender care for each one of us.
Our own lives had looked like they belonged on the trash heap. Broken, messed up, imperfect. But what we viewed as rubbish was still valued by the Father. He didn't turn His back to us. Rather, He lovingly looked down and rescued what seemed ruined and beyond repair.
And now we are God's treasure. We are learning to cling tightly to Him, come what may. He is making us new.
*names have been changed to protect confidentiality.